About Leo Houlding: Take me to the Edge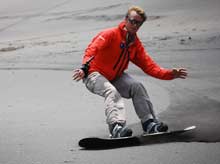 stv will inject a fresh dose of adrenaline into your Friday night, with action packed new series, Leo Houlding: Take me to the Edge.
The six part series, follows world famous rock climber, adventurer and all-round dare devil Leo Houlding, as he embarks on the journey of a lifetime with five fellow thrill seekers, looking for a change from the daily grind.
Guided and mentored by Leo, the group take on an extraordinary adventure which spans the globe and is set to change their lives forever. Their task – to try out some of the toughest rites of passage in the world, including terrifying rock climbs, running through fire, drinking blood straight from a cow's neck and climbing into a swarm of deadly bees.
Join Leo and the rookies on their global adventure, as they seek out tribal rites and rituals to help lift them from their sedentary, tired and humdrum lives.
Along the way, the team will also undertake some awe-inspiring and terrifying stunts. These stunts will be part of their journey, and will reflect Leo's adventuring spirit.
From New Zealand to Kenya, from Bhutan to India, we follow Leo and his protégées on an adrenaline fuelled journey around the world, through highs and lows – often quite literally – as they push themselves to the limits and take on challenges they didn't know existed.